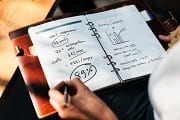 "What do you do?"
"I'm a quantity surveyor."
It's common for blank stares to follow this statement. Quantity surveyors don't get as much of the limelight as accountants, engineers, or architects but their job is a crucial part of any investor's world. Here's 10 more things to know about them.
There's a lot of work that goes into becoming a quantity surveyor, starting with going to university. For example, there's a Bachelor's of Urban Development with Honours (Quantity Surveying and Cost Engineering) from QUT. This course involves majors like urban planning, accountancy, and applied economics. There's more to working as a quantity surveying than just good maths.
This job allows people to travel. The construction industry needs quantity surveyors far and wide, especially during the initial stages of a project. Those who work for a company with offices abroad will find themselves on worksites from Hong Kong to Dubai. A quantity surveyor working for Deppro visits both regional and capital cities all around Australia at scheduled times of the year. So they definitely rack up the frequent flier miles.
To legally work as a QS, you need to become a member of the Australian Institute of Quantity Surveyors. This group represents all surveyors across Australia. Members are bound by a code of conduct to operate at a high standard. They have access to further education, professional executive events, and other resources.
Another institute both individuals and companies must register with is the Australian Tax Practitioners Board. This is especially the case when the quantity surveyor is working on calculating property depreciation. This way the tax depreciation schedule is fully ATO compliant.
A quantity surveyor is also known as a cost estimator. Their job is to save money on the build without compromising quality. They'll complete their job before the developers break ground and consult through the project.
Those who work on calculating depreciation, though, start their work when the buyer settles the home. After a walkthrough of the property, taking photographs, making notes, and inspecting plans, the quantity surveyor writes up a depreciation schedule. This sets out the lifespan of the fixtures in the property and how much value they'll lose over time.
https://deppro.com.au/wp-content/uploads/2017/12/quantity-180.jpg
120
180
admin
https://deppro.com.au/wp-content/uploads/2023/09/deppro_new_logo_final_lowres.png
admin
2017-12-15 00:35:57
2017-12-15 00:38:15
Working as a quantity surveyor; their job in 4 points