Are you looking at the type of investment property you can 'fix-up' and flip for a profit? Or even turn into a rental? There's hundreds of thousands of design pages, and just as many websites and blogs,  it's difficult to filter out the noise. We've compiled some of the best ideas.
Curb appeal
This new home in Geelong brings different materials together to create a stunning facade. When you're renovating your investment property, or building from scratch, look at the curb appeal of the other homes in the neighbourhood and see what you elements  can mimic…if not do better.
Lounge
Living Room Inspiration by HiPages
The lounge/living area is where your tenants will end up at the end of a long work day. They'll kick up their feet, put on the Foxtel and spend the night in with a movie. Wood and concrete are hardy materials, though carpeting and rugs are more comfortable to walk on. You can change the finishes depending on the lifestyle and type of tenant you're marketing to.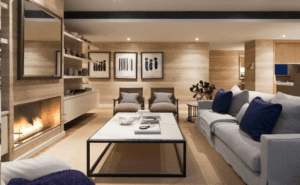 Dining/Kitchen
Galley kitchen designs to inspire a kitchen makeover
The heart of the home. Family members and visitors spend most of their time in this space. It's also the most highly judged of the rooms in the investment property. Don't scrimp on the paint or finishes. The space is meant to be functional, but also make it warm and welcoming, like this galley-style kitchen. Many modern kitchens have an island bench and an open-plan design that flows seamlessly to the dining area.
Master Bed
5 incredible house design ideas & images from Real Estate
Prospective buyers look at kitchens and bathrooms for value. Bedrooms, though, should never be overlooked. Master bedrooms are meant to serve as a sanctuary, preferably with an ensuite like this one above in Flinders House, Victoria. You can claim depreciation on the new fixtures when you renovate the investment property.

Bathrooms
Bathroom Ideas – Bathroom Designs and Photos by Real Estate
Rainfall shower heads, deep bathtubs and heated towel-racks? Tenants have high expectations and they'll look right over your investment property if it doesn't stack up.
Second Bedroom
Create an inviting guest bedroom
The more bedrooms, the higher the rental income! Your investment property might cater for roommates, couples, or a three-person family. But make the bedroom styling neutral. This way you can appeal to the maximum amount of buyers. Jo Carmichael from HomeLife has some useful tips in this article.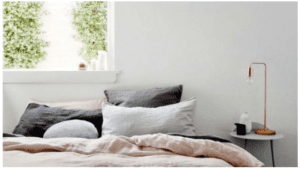 Study
Before & After: A Whole New Look for a Home Office
Simple, yet functional. If your investment property has an extra room, turn it into a home office. This is great for working parents and people who need an area to work on homework and projects.

Outdoor living
Affordable Sydney Patios by Houzz
A patio, balcony or a backyard is part of the australian way of life. If you have outdoor real estate, use it. Spruce it up with some new lawn, paint the fence and design it in a way so that it flows from the kitchen/dining area. INDESIGNS from Sydney has managed to pull this off in a Scandinavian-style cottage, complete with a kids cubby house. You might not put one in for your tenants, but it certainly adds character.
Garage
How to declutter your garage by Real Estate
Even this part of the house needs some attention. You mightn't need to renovate it, but it'll need a good clearing out. The tenants in your investment property most likely drive and the garage needs to have room to fit at least one large vehicle. This area also doubles as a storage space and adding shelves with help with functionality. Don't forget about curb appeal; the exterior of the garage is always visible from the street.

Liked this? Read these:
https://deppro.com.au/wp-content/uploads/2017/10/home-design-pic_600x800.jpg
600
800
admin
https://deppro.com.au/wp-content/uploads/2023/09/deppro_new_logo_final_lowres.png
admin
2017-10-12 23:46:29
2017-10-12 23:46:29
8 amazing home builds and overhauls from around the web to inspire your investment property renovation